God commands us to give our Sabbath to the Lord, not as a recommendation or suggestion, but as a command. If God made room for it on the tablets given to Moses, perhaps we ought to pay attention to how we spend our Sundays!
As a child, my entire family put aside work, school, errands, and chores—setting Sunday apart from the rest of the week. Although sadly, we didn't always attend Mass, we visited and enjoyed a meal with my maternal or paternal grandparents. Sometimes, we'd score a free meal from both. Over time, my family's lives and the world around us changed, making keeping our Sundays for rest and focused on the Lord much more difficult. 
Spiritually, a faith not attended to quickly deteriorates. As a mother of young adult sons, I've witnessed first-hand how the longer they go without making time for Christ in their life, the wider the cavern between themselves and the Lord gets. Although a relationship with Christ should be built every day, giving Sunday to the Lord provides a sturdy tether to keep us from completely floating away.
In addition to making time for worship, the command requires us to rest. A worn-out body becomes overwhelmed, less effective, and even sick, ultimately unable to work to its full potential. Work is my jam, and all my work is for the Lord, making this command especially challenging. 
I am so blessed to work in Catholic ministry, and I sometimes confuse making time for God with items listed in my job description. Additionally, I have a domestic church to run, and like most women, I am always chasing the end of my to-do list. It is tempting to stare down the 12-plus awake hours of Sunday without opting to complete back-logged work or a lingering household task.
So, looking toward next Sunday, what do you have on your calendar? What blessing does the Lord have awaiting you in the rest of the Sabbath? Commit to giving Him the whole day; then at the end of the day, be sure to look back and count the many ways you benefited from following this commandment. 
If God commands it, we can all rest assured that He intends it for our good and is guaranteed to help make us holy. And, if you must work or attend to household tasks, be sure to glorify the Lord in all you do.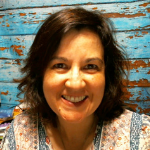 Allison Gingras works for WINE: Women In the New Evangelization as National WINE Steward of the Virtual Vineyard. She is a Social Media Consultant for the Diocese of Fall River and CatholicMom.com. She is a writer, speaker, and podcaster, who founded ReconciledToYou.com and developed the Stay Connected Journals for Catholic Women (OSV).   
Feature Image Credit: 5688709, https://pixabay.com/photos/man-woman-dog-pet-pug-owners-2425121/
The views and opinions expressed in the Inspiration Daily blog are solely those of the original authors and contributors. These views and opinions do not necessarily represent those of Diocesan, the Diocesan staff, or other contributors to this blog.