Mass Times
Saturday
4:30pm Vigil Mass
Sunday
9:00am & 11:00am (7:30am Seasonal Only: January through Palm Sunday)
Grace and Peace from God our Father and Lord Jesus Christ!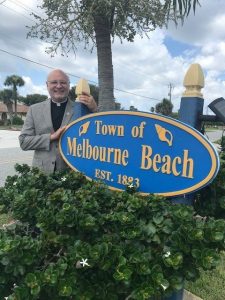 In Eucharistic Prayer III, we pray the words, "You never cease to gather a people to yourself, so that from the rising of the sun to its setting, a pure sacrifice may be offered to your name."  Here on Melbourne Beach, we live this out literally! Sandwiched as we are between the Atlantic Ocean and the Indian River Lagoon, we are blessed to witness the magnificence of God's creation each day as the sun rises behind our altar and sets beyond our church doors!
I am so glad that either you are already a part of our wonderful parish, or perhaps are considering making our parish your new household of faith!  The strength of any parish resides in the hearts and minds of faithful Catholics like yourselves.
Rev. Benjamin Berinti, C.PP.S., Pastor
We Welcome You!