Today we celebrate the Memorial of the Presentation of the Virgin Mary in the Temple as a child. This celebration was first documented in Jerusalem in the 500s (there was a church built in honor of this mystery), and then in the Byzantine Church in the 11th century; it was not added to the Roman Calendar until a few hundred years later. It remains on the calendar today as a commemoration of the faith of her parents (St. Joachim and St. Anne) as well as the purity of Mary from her birth.
While there is nothing about this event in the Gospel and no historical proof, the Tradition holds that Joachim and Anne offered Mary to God in the Temple when she was just three years old to fulfill a promise they had made when Anne was still childless. This was not unheard of: many devout Jews offered their children to God through the priests of the Temple (like the prophet Samuel being offered by his mother, Hannah), to live there and to be brought up attending the priests in their sacred work.
The theological truth to ponder is that from the beginning of her life, Mary was dedicated to God in the Temple of the Old Covenant. Later, she herself would become the Temple of the New Covenant, a real temple of God, when the Word became Flesh within her.
Why is this something we should ponder and celebrate? Because it points to Christ. Whatever the Church states about Mary it states in reference to Christ, because of her role in the context of the Redemption. God was preparing to come to dwell among his people, and he "stirs forth from his holy dwelling" (Zec 2:17), he does great things for Mary (Lk 1:46-55) to prepare the way. Her absolute purity was necessary for the role God had called her to fulfill. The Mother of the Word of God must be free from any shadow of sin from the first moment of her existence. She must be "full of grace" in order to be able to receive the mission brought to her from God through Gabriel. She must be completely submissive to God's will to walk the obscure way marked out for her, all the way to the Cross and beyond.
We honor Mary's holiness because it comes from God. We honor her faith and hope because they are directed solely to God. We honor her motherhood because it belongs to Christ, and he shared it with us. Her life was dedicated to God; she was truly and always "the handmaid of the Lord." And in today's Gospel, Jesus honors his mother's fidelity and humility when he says, "Whoever does the will of my heavenly Father is my brother, and sister, and mother", because Mary always did the will of the heavenly Father.
And she helps us, because we too are temples of God, called to share in God's saving work by doing always the will of the heavenly Father.  
---
Hoy celebramos el Memorial de la Presentación de la Santísima Virgen María en el Templo cuando era niña. Esta celebración fue documentada por primera vez en Jerusalén en los años 500 (hubo una iglesia construida en honor a este misterio), y luego en la Iglesia Bizantina en el siglo XI. No se agregó al calendario romano hasta cientos de años después. Permanece hoy en el calendario como conmemoración de la fe de sus padres (San Joaquín y Santa Ana) así como de la pureza de María desde su nacimiento.
Si bien no hay nada sobre este evento en el Evangelio ni prueba histórica, la Tradición sostiene que Joaquín y Ana ofrecieron a María a Dios en el Templo cuando tenía solo tres años para cumplir una promesa que habían hecho cuando Ana aún no tenía hijos. No era nada fuera de lo normal. Muchos judíos devotos ofrecían a Dios sus hijos a través de los sacerdotes del Templo (como el profeta Samuel que fue ofrecido por su madre, Ana), para vivir allí y criarse asistiendo a los sacerdotes en su obra sagrada.
La verdad teológica a reflexionar es que desde el comienzo de su vida, María estuvo dedicada a Dios en el Templo de la Antigua Alianza. Más tarde, ella misma se convertiría en Templo de la Nueva Alianza, verdadero templo de Dios, cuando el Verbo se hizo Carne dentro de ella.
¿Por qué es algo que debemos reflexionar y celebrar? Porque señala a Cristo. Todo lo que la Iglesia dice sobre María lo dice en referencia a Cristo, por su papel en el contexto de la Redención. Dios se preparaba para venir a habitar entre su pueblo, y "saliendo de su santa morada" (Zac 2,17), hace grandes cosas por María (Lc 1,46-55) para preparar el camino. Su pureza absoluta era necesaria para el papel que Dios la había llamado a cumplir. La Madre del Verbo de Dios debe estar libre de toda sombra de pecado desde el primer momento de su existencia. Ella debe ser "llena de gracia" para poder recibir la misión que Dios le ha traído a través de Gabriel. Ella debe ser completamente sumisa a la voluntad de Dios para caminar por el oscuro camino que le ha sido marcado, hasta la Cruz y más allá.
Honramos la santidad de María porque viene de Dios. Honramos su fe y esperanza porque están dirigidas únicamente a Dios. Honramos su maternidad porque pertenece a Cristo, y él la compartió con nosotros. Su vida estuvo dedicada a Dios; ella fue verdadera y siempre "la sierva del Señor". Y en el Evangelio de hoy, Jesús honra la fidelidad y la humildad de su madre cuando dice: "todo el que cumple la voluntad de mi Padre, que está en los cielos, ése es mi hermano, mi hermana y mi madre", porque María siempre hizo la voluntad del Padre celestial.
Y ella nos ayuda, porque nosotros también somos templos de Dios, llamados a participar de la obra salvífica de Dios, haciendo siempre la voluntad del Padre celestial.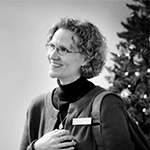 Kathryn Mulderink, MA, is married to Robert, Station Manager for Holy Family Radio. Together they have seven children (including Father Rob), and seven grandchildren. She is President of the local community of Secular Discalced Carmelites and has published five books and many articles. Over the last 30 years, she has worked as a teacher, headmistress, catechist, Pastoral Associate, and DRE, and as a writer and voice talent for Catholic Radio. Currently, she serves the Church by writing and speaking, and by collaborating with various parishes and to lead others to encounter Christ and engage their faith. Her website is www.KathrynTherese.com
Feature Image Credit: Dodo71, pixabay.com/photos/stained-glass-window-church-parents-6466542/