Today's readings are full of instructions on how to live and love and be rewarded. St. Paul starts by giving us a list of virtues he invites us to "put on" and then cover them with love. Why? Because we are God's chosen ones. We are chosen by God to be followers of His; to believe in His Son, Jesus and to live a life full of his goodness. But we often fail. In my own life there are days when I fail a little bit and days when I fail miserably. Do you ever feel like you don't want to be around yourself? That's what I mean by failing miserably to live as God asks and as Jesus tells us in the Gospel.
We are to love; not condemn, not judge, not hold the good we do for others over them. As Jesus points out, we are held to a higher standard because we believe in him. And so, if we say we love Jesus and are his follower, we must behave in the ways he instructs us. If we look at this passage from Luke, we see that it will not be easy to do what Jesus is asking. However, Jesus showed us how to do it. His passion and death point us to the ultimate sacrifice. And after the sacrifice comes the reward. Jesus' death shows us mercy. He died for us while we were still sinners, which is mercy. Where would we be without mercy?
When I am failing at loving I try to recall the endless mercy I have received and then ask if I am sharing that mercy? Sometimes it is hard to be merciful and loving. The reasons vary, but I'm going to propose that it happens when our tank is empty. If there is an inability on your part to share God's love and mercy, may I suggest 2 things: confession and praying with Scripture. Start with the today's readings, read a few verses, and then ask the Holy Spirit to reveal what is good and what is lacking. Go through the a few verses each day and write out what you hear, what stirs you, what convicts you. Remember, when we are convicted of wrong, it is so we can right it, not be shamed by it. This prayerful reading with Scripture will help you re-focus and be refilled and reminded of all Jesus has done for us. And then, we will be able to live out what Jesus asks us to do in the Gospel.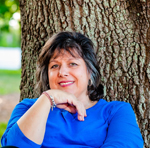 Deanna G. Bartalini, is a Catholic writer, speaker, educator and retreat leader. She is the founder of the LiveNotLukewarm.com community, a place to inform, engage and inspire your Catholic faith through interactive Bible studies, courses and book clubs. Her weekly podcast, NotLukewarmPodcast.com, gives you tips and tools to live out your faith. At DeannaBartalini.com  she writes about whatever is on her mind at the moment.
Feature Image Credit: Anne Nygård, https://unsplash.com/photos/0uRJY0sStM0