I remember as a child thinking to myself whenever I heard this reading, "Someday, I'll be just like my mom and dad and be able to make my own decisions. They won't be able to tell me what to do." This most often occurred, unsurprisingly, when I felt that their discipline or guidance was unwarranted. Of course, as an adult, I see things differently. 
While I am able to make my own decisions, I now value the opinion and life experiences of my parents. As a parent in my own right, I see now the why behind some of the decisions my parents made which, as a child, I could not comprehend. I am still a disciple, still learning from my parents' wisdom. But I am now also the teacher, having completed my training. 
As disciples in faith, we may be misled into thinking that some among us are, as Jesus puts it, "fully trained." Maybe it's the person who always leads Bible Study. Perhaps it's that lady who serves as sacristan, the one you always see bustling around before and after Mass who seems to know everyone and where everything goes. It could be the choir leader, or the PSR coordinator, even your priest, or "insert the person you're thinking of here." 
While they may be confident in their faith, they are not fully trained in it. They may have led RCIA candidates through the process of initiation for 25 years, they are still not fully trained. Even your priest, with all of his experience, discernment, study and education – even he is not fully trained in the way that Jesus is speaking about.
Jesus is training us in the way of selfless love. The type of love that is endless, sacrificial, life giving and eternal. When we look at the saints, we see some of those who have been nearly fully trained – they have become so like Jesus. Not equal to, certainly not surpassing, but enough that they have become both disciples and teachers. They have broken down the barriers of their hearts and allowed Jesus to shape and mold them into vessels of love. They pour out what He has given them, brightly showing us the path Jesus wishes to lead us on.
Any saint will tell you that their eyes are full of beams to be removed. The closer they have come to God the more they have realized their own flaws and shortcomings. Bishop Robert Barron uses the image of a windshield to great effect. When you are driving at night, your windshield looks great – no spots. But as soon as a light shines in, the smudges, nicks and dirt become glaringly obvious. 
We are all seeking training in the ways of Jesus. Even the saints will tell you they are still works in progress. As we commence into a new school year, perhaps this is a moment for you to consider how you can continue to progress in your training. Is there a new Bible Study starting up? Perhaps the RCIA group is looking for new members (or if you feel like you are lacking in understanding of our faith, simply attending even if you have already received your sacraments is a fantastic way to learn about the tenets and doctrines of what we believe). Maybe it's time to consider catechist training. Or perhaps you are ready to commit to a more dedicated prayer schedule and could fill an adoration time slot. Ask God to show you how He wishes to train you next.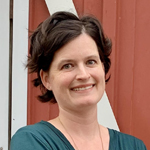 Kate Taliaferro is an Air Force wife and mother. She is blessed to be able to homeschool, bake bread and fold endless piles of laundry. When not planning a school day, writing a blog post or cooking pasta, Kate can be found curled up with a book or working with some kind of fiber craft. Kate blogs at DailyGraces.net.
Feature Image Credit: olia danilevich, https://www.pexels.com/photo/back-to-school-flatlay-5088008/