Who was this "tax collector named Levi" in today's Gospel? How did he enter into this profession? How many hours had Levi sat at the customs post counting and calculating the taxes he collected? What had he purchased for himself with the wealth that he drew for himself? How many years had gone into establishing his reputation and identity as a tax collector?
Then Jesus comes, probably with his disciples. He "sees" Levi.
What would this be like, to have Jesus really SEE us? Well, it would undoubtedly change us, like it changed Levi. Levi, who had built a life as a collector of taxes, who has established a reputation in the community, who has gathered comfortable wealth to himself, is changed under the gaze of Jesus, so that when Jesus says, "Follow me," Levi DOES. Levi leaves it all – he leaves everything behind – gets up, and follows Jesus!
It's worth asking ourselves seriously what we would do in Levi's sandals. Would we be able to leave everything behind, and go wherever Jesus leads? Could I leave behind my job, my home, whatever I have built up for now and for the future, for the love of God? The few words used by St. Luke to express this scene may make this seem like an easy thing, but there is something profound and phenomenal happening here.  There is a seismic change within Levi, who suddenly knows that the "security" he has established for himself is not secure at all, the comfort he has carved out for himself is not satisfying, the plans he has made for himself are not worth pursuing. When caught in the gaze of Jesus, Levi sees possibilities that he could not see before.
Isn't this partly what Lent is about? We pray to allow ourselves to be caught in the gaze of Jesus, who is always seeking us and always for  us, so that in his gaze we recognize the needs and yearnings of our own hearts more deeply, and are moved to let go of all our own ideas about our lives. When we are willing to set aside our own agendas and open ourselves fully to God's Plan for us, we receive the grace to "leave everything behind" and follow him.
Not many of us actually have to leave our whole lives behind and start something new – our families and homes and possessions and jobs are gifts from the Lord. But we can receive the grace to really SEE that everything is a gift and to put all our gifts and talents in service to God's will for us, rather than our own will for us. Our activity becomes directed to the good of others and God's glory, rather than our own ideas of comfort and security. We learn to trust in the Providence of God, rather than our own providing.
This is the "newness" in which the Lord invites us to walk this Lent.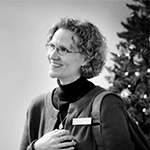 Kathryn Mulderink, MA, is married to Robert, Station Manager for Holy Family Radio. Together they have seven children (including newly ordained Father Rob and seminarian Luke ;-), and two grandchildren. She is a Secular Discalced Carmelite and has published five books and many articles. Over the last 25 years, she has worked as a teacher, headmistress, catechist, Pastoral Associate, and DRE. Currently, she serves the Church as a writer and voice talent for Catholic Radio, by publishing and speaking, and by collaborating with the diocesan Office of Catechesis, various parishes, and other ministries to lead others to encounter Christ and engage their faith. Her website is https://www.kathryntherese.com/.
Feature Image Credit: Dimitri Conejo Sanz, https://www.cathopic.com/photo/322-maria-sostiene-jesus