Words for Our People in Semi-Diaspora
In this space, Fr. Ben Berinti, C.PP.S our Pastor shares messages of support, consolation, humor, and updates during this time of finding our way back to our parish during the ongoing COVID-19 Pandemic.  Check in here every few days to stay connected with our parish in (semi) diaspora (that's the fancy Bible word for "being scattered from our homeland")!
May 31 FEAST OF PENTECOST
We are underway as we celebrate the Feast of Pentecost and the tentative re-opening of the church for weekend worship.  Thus far, through two weekend Masses (I am writing this piece at 7:50 on Sunday morning), we are staying well within (below) our current capacity numbers.  It will take time to rebuild the Assembly; of that I am sure, but we can certainly be united in our desire to return to "full, active and conscious participation" in Sunday Eucharist.
As we celebrate the wonderful Feast of Pentecost today, I'd like to share with you one of my favorite quotes, from a favored author, who vividly captures the consequences and risks of truly calling upon the Holy Spirit–to change our world, our Church, our parish community, and our own lives.  Happy Pentecost!
Why do people in church seem like cheerful, brainless tourists on a packaged tour of the Absolute? … Does anyone have the foggiest idea what sort of power we blithely invoke? Or, as I suspect, does no one believe a word of it? The churches are children playing on the floor with their chemistry sets, mixing up a batch of TNT to kill a Sunday morning. It is madness to wear ladies' straw hats and velvet hats to church; we should all be wearing crash helmets. Ushers should issue life preservers and signal flares; they should lash us to our pews. For the sleeping god may wake someday and take offense, or the waking god may draw us to where we can never return."
—Annie Dillard, Teaching a Stone to Talk: Expeditions and Encounters (New York: Harper & Row, 1982), pp. 40-41.
May 30
And so we begin again!  Weekend liturgies start today with the 4:30 pm Vigil Mass.  What a wonderful occasion for us to begin (cautiously) gathering together for worship on the Lord's Day–the Feast of Pentecost.  Often deemed the "birthday of the Church," in some ways, today's Feast marks the re-birth of the Church in Melbourne Beach (and throughout our Diocese of Orlando) following our closure at the start of the global Covid-19 pandemic.  We shall see what this first weekend back brings and how the Lord is guiding us as we balance care for one another in health of body and in health of spirit.  Regular Saturday confessions will resume prior to the Saturday Vigil Mass at 4:00 pm NEXT SATURDAY, JUNE 6.  For safety, we have re-located the confession area to the Overflow Room at the south rear of the church.  The Overflow Room is closed during Mass times, and will only be used for the Sacrament of Penance and Reconciliation.
As we celebrate the Descent of the Holy Spirit, who inspired those timid and afraid first disciples, let us pray for that same Holy Spirit to come upon us for healing, strength, empowerment for ministry, and a calming peace amidst our numerous anxieties and fears.
I greatly look forward to seeing those of you who are choosing to return to weekend Mass, and I continue to pray for all of our parishioners who are not yet able to join us.  United by the Eucharist, whether in person or in the spirit of the Lord, we remain the Body of Christ!
NEW ENTRY May 27
So much water under the bridge since I last posted a message in this space!  My apologies!  We have already moved from complete "diaspora" to "semi-diaspora," as some of us have begun making our tentative steps back to gathering for worship in our parish church.  We now have about one and a half weeks of celebrating Mass publicly in church under our belts, and we continue to adjust and learn new ways of making this work.  For those who are curious, but have been unable to attend daily Mass, after our May 18 opening day surge of 70+ people, we are averaging about 40 people in attendance.  As I have shared in other places, I personally have been pleased with the Bishops of Florida, and in particular our own Bishop John Noonan for the cautious, gradual, and conscientious approach to re-opening our churches.  While there are some parts of this experience (or should I say MANY parts) that continue to be disconcerting and challenging, I'm glad we have had the chance to think through and plan as safely as possible, given a variety of limitations (for example, I haven't been able to secure a virus-fogging machine from one of the airlines!), for our gathering in community.
I continue to remind everyone that the Sunday Mass obligation is still removed, so there is no "burden" placed on anyone's conscience/soul if you choose not to come to Sunday Mass, which we begin anew this weekend May 30-31.  Masses will be at the regular times this weekend.
Please note: the church will be clean and ready to receive parishioners for our 4:30 pm Saturday Mass and sanitized following Mass, so we can be ready for 7:30 am Mass on Sunday.  After the 7:30 Mass Sunday, a quick cleaning of high-touch surfaces and bathrooms will take place, but not the entire church.  We will however close the church immediately after the 9:00 am Mass, sanitize the entire church, and reopen in time before the 11:00 am Mass.  The church will be sanitized early Monday morning before opening for daily Mass.  This will be our regular schedule of cleaning for the first couple of weeks.  Weekday Mass in public continues Monday-Friday 8:00 am, but Saturday morning Mass at 9:00 am will continue NOT TO BE PUBLIC for the month of June.
A few folks have asked "how many people" will we accommodate this first weekend?  In truth…I have no idea!  While we highly recommend people gradually returning, or even staying home the first weekend or two, we will not be "policing" the attendance.  Following the outcome of this first weekend of re-opening, we will assess how things went, and prepare for the coming weeks based on our experience.  As I have continued to emphasize, we have limitations in what we can do for safety and good health–so the bulk of the responsible decision-making rests on each parishioner.  Only church staff are permitted to clean and sanitize the church, so despite the kind offer from a couple of parishioners, we are unable to use volunteer help in this effort.  if you are able, you may consider sharing a weekday (Monday-Friday) morning Mass in
I do look forward to being with those who can participate this weekend, and I greatly look forward to being able to welcome more parishioners in the weeks and months to come–praying we do not encounter any significant set-backs.  Also as a reminder, all other parish activities, meetings, social gatherings, adult formation, coffee groups, etc. are suspended until we receive permission from Bishop Noonan to begin reconvening some of these activities.  This continues to be disappointing for me personally, since this June would bring our Third Annual Tiki-time Summer School of Spirituality–but we have to see what happens.
I continue to be deeply grateful for all those who have continued or re-started stewardship support of the parish, as well as those who have had the ability and generosity to pitch in a little larger contribution than normal; this is critical for our near-term needs.  In case you haven't been keeping up, as always, our weekly bulletin is found here on our website.  We will continue with a digital bulletin for the month of June and may return in July to paper bulletins being made available in church.
We have been posting our weekly stewardship gifts in these bulletins, along with a comparison to a year ago.  As you will see, we are averaging anywhere from $3,00-4,000 less per week than this time a year ago.  We have implemented cost-cutting efforts in shepherding your gifts to support the church, but there is only so much we can reduce and still pay recurring bills and salaries.  We did implement a brief period of staff reductions in hours and pay during the month of May, but fortunately we are recipients of the Payroll Protection Program loan (8-weeks worth of support), which is helping us meet payroll and utility expenses through the middle of July.  Following this assistance, I will once again need to reassess where we are financially in terms of staff and expenditures.  The summer months historically are the weakest period of time in regards to financial support for our parish, so the months ahead will require greater attention, oversight, and generosity in terms of stewardship.  Stimulus checks are welcome!!
ON THE RADIO-WDMC DIVINE MERCY!
 Tune in to Bill Gent's "Treasures of Faith" program this coming Tuesday June 2, as I join him for a final Easter Season installment of reflections on the Resurrection narratives in the Gospel of John.  Previous programs are available on the station website under "Podcasts" or here on our website under "Faith Formation/Fr. Ben on the Radio"
Also great Catholic news from the Diocese and beyond is available with the Florida Catholic FREE digital editions.  Click below to read!  BTW…I will be authoring the Sunday Word  scripture articles during the month of June in the Florida Catholic E-edition
May 18
PUBLIC DAILY MASS HAS RESUMED IN CHURCH MONDAYS-FRIDAYS 8:00 AM
May 11-Church is OPEN for personal prayer Monday-Friday 9:00 am-1:00 pm!
We are filled with great anticipation as we look toward to next Monday, May 18, the day when we can begin to physically worship together. However, when we return to public worship we will need to respect the restrictions and guidelines that our Bishop, following public health professionals, has provided in order to keep everyone safe and healthy. Bishop Noonan has informed us that we are dispensed from the obligation to attend Mass on Sunday until further notice.
Here are some initial guidelines regarding how we are going to proceed in re-opening our church.  These guidelines will be practiced, and will be adjusted, as needed or when new directives are issued.
Pews have been marked off for healthy-spacing, as well as the aisles marked for distancing at the time of Holy Communion.
The Overflow ("Cry Room") is closed until further notice; please be seated in other areas of the church.
All literature has been removed from the pews of the church, including missals and hymn books. Since we do not have projection capabilities in our church, Manfred will do his best to select familiar hymns and refrains.
For Holy Communion…

We will not be offering the chalice holding the Blood of Christ
The Sacred Host will only be given in the hand, not on the tongue
For those who may be wearing gloves to church, they will need to be removed prior to receiving Holy Communion in their hands as particles of the Sacred Host can adhere to the gloves

The Sign of Peace exchange will take place by offering a word of "Peace" to each other. If it has been your practice, please also refrain from extending a hand to hold during the Our Father.
Sunday Offerings/Stewardship will take place as you enter the church, as baskets will be available at the rear and middle of the center aisle. Individual baskets will not be passed among the Assembly during the Offertory/Presentation of Gifts.
The holy water fonts at the doorways remain removed.
The Adoration Chapel remains closed for prayer until further notice.
Those who desire may wear a face mask to church, but it is not required for members of the Assembly or liturgical ministers.
In this initial phase of re-opening the church, despite what I'm sure will be a certain awkwardness, let us do so as safely as we are able as a community who truly respects one another for our common good.  Even with these measures, we will surely still raise a joyful sound to the Lord through our worship!
Mother's Day May 10
Blessings to all mothers–living and deceased–whom we honor today!  Looked liked many families celebrated the holiday yesterday, as I noticed the beach parking lots (and even the sides of the road nearby) were loaded!  Hopefully all those beach-lovers were practicing social distancing!  Today is a gloomy, stormy day here in Melbourne Beach, but let our hearts be warmed by the love of mothers which we cherish in our hearts.  Below I am sharing with you an edited version of a chapter from my book, Firestarters: For the Seasons of Our Lives, in which I reflect upon the life-giving beauty of motherhood.  I pray it lifts your spirits today, even while it brings with it sadness for me as I pass my first Mother's Day since the recent loss of my mom.
RETURNING TO THE "SEAT OF LIFE":  OUR MOTHER'S LAP [excerpted from Firestarters: For the Seasons of Our Lives]
          Long before President Woodrow Wilson declared "Mother's Day" a national holiday in 1915, we've been recognizing and celebrating "motherhood."  Even as I pen this word, "motherhood," it strikes me now as being too static, too much of a cardboard cut-out term, smacking of a frozen set of letters calligraphied across the cover of a Hallmark greeting card.  Better for us to speak of and reflect upon the action of being a mother, "mothering."  (After all, we are all called to "mothering" in some way; it is not a gift limited only to a biological relationship…but more on that later.)  Perhaps no other reality has been more discussed, debated, reflected upon, struggled with, and artistically presented, than mothering.
Some of the earliest sculptures created in human history give form and shape to the values embedded in mothering.  Recently, while reviewing a delightfully challenging reflection on the nature of the Church by Sally Cunneen entitled, Mother Church, I came across her discussion of a particular type of sculpture of mothering that has been resurrected in countless forms throughout history — the "woman chair" sculpture.  The creation of these sculptures stretches back to a most ancient depiction of the "Mother Goddess."  In these sculptures, the goddess is a woman whose lap, unnaturally extended, becomes a chair.  She is literally the seat of life and growth…  The lap or seat becomes the symbolic center from which life not only flows, but to which it returns for nurturing.  Cunneen describes the lap of mothering as a holding environment—– the space in which growth is fostered.
          What a powerful image of mothering; what a powerful image to pull out from our own storehouse of memory and to bring to life once again as a spark to ignite our reflection.  Before consuming these remaining words, spend a few moments playfully musing in your mind's eye about the safety, security, warmth, nurturing, support, and gentleness you have experienced while cradled in a mother's lap….
I've turned the pages of albums and thumbed through faded photographs of my infancy, and I've been captured by the contentment that radiates from my face as I rest in my mother's lap, experiencing the satisfaction of her feeding, the stimulation of her smiling and laughing, the cooing of her soothing voice, the gentle stroking of her fingers over my head and face.
The image is even more potent when not only we are the ones who have been nestling in this sacred space, but the ones who have also offered our own laps for the nurturing of someone we love.
Of the many qualities that sustain one in mothering, perhaps the most significant, the most cherished (and the one most mourned when it is lost or physically inhibited in some way) is the ability to give life out of one's body.  Whether through the great miracle of physical birthing or through the myriad symbolic ways in which each of us "gives life" through our bodies, we are invited into the creative work of God, the ultimate Giver-of-Life, and we are given a share in the Divine Creator's desire and ability to renew life in spite of the constant and natural rhythm of decay and death.  This is true "mother-power" bestowed by the Creator—a power we are all asked to exercise throughout our lives.
The sacred space of a mother's lap, the sacred space from which we literally emanate and to which we seek to return to be rejuvenated, is blessed as a holding environment.  It is the place where we can get our bearings after being disoriented or thrown into a tailspin by some experience of life; it is a locus of healing through the power of physical touch; it is a place with boundaries, which enables us to regroup when we have fallen into the boundary-shattering experiences of life, the ones we call chaos; it is a place of "resurrection" in the sense that we often emerge from this space, after having come face to face with the darkness of our tomb, with the light of a new day, with the glow of a new beginning.
The true mother, while struggling with the risks of allowing her child to leave the safe boundaries of her lap, knows that her child will never grow into the beautiful creation God has blessed her with unless she first lets him or her go, allows him or her to venture forth in freedom.  There is a great chasm that stretches between mother—ing and smother—ing!
          As I ponder many things this Mother's Day, I am grateful that the seat of life from which I have sprung has provided me with not only an understanding of the power and call to mothering in my own life, but also an image and foundation for understanding the power in the way I live and minister in the Church.
I give thanks and praise to God on this day for my own mother, my grandmothers and godmother, too….  In tribute to our mothers—no matter who they are or where they may now be—let us spend some time resting in their laps, receiving from them the grace of renewed life despite the decay and death we constantly face.
May 8
This coming Monday May 11, we will be opening the church for personal prayer and time in communion before the Blessed Sacrament in the tabernacle. The church will be accessible from 9:00 am until 1:00 pm.  Please observe social distancing protocols while inside the church and use the designated pews that are open for seating.  Once we begin weekday Mass on May 18, pews will continue to be marked for seating or open space; this helps with social distancing as well as limiting the specific surfaces needed to be cleaned once the church closes each day.
While I am (cautiously) thrilled for our community to begin gathering for worship, I again emphasize that our church interior will not be 100% sterile and sanitized, so if anyone has any hesitation about his or her safety, health and well-being when considering coming to the church for prayer or worship—please stay home until you feel 100% secure.  Remember that the dispensation from Sunday Mass obligation is still in force, so no one is "in the state of sin" for missing Mass.  We will do the best we can to make the church as safe as possible, but know we have limitations for maintenance and "supervision" of the space and people.
This will be a gradual learning process of what works/doesn't work as we begin to return to communal worship.  Please be patient and extend kindness toward one another as everyone tries to comply with all the restrictions.
May 5 Cinco de Mayo! Ole!
#GivingCatholicNow
#GivingTuesdayNow is a new global day of giving that takes place on May 5, 2020 to provide for the unprecedented need caused by the coronavirus pandemic.  We invite you to join us in creating an outpouring of gratefulness, generosity, community engagement, and philanthropy to support our Catholic community in Central Florida by following your Catholic heart to help sustain the ministries in our diocese for which you are grateful.
We invite you to join us in coming together in a day of gratitude and giving to address the loss of revenue our beloved Catholic parishes, schools, and ministries have experienced by supporting #GivingCatholicNow through a donation at www.givingcatholicnow.org.  A gift of any size shows your support for the work of the Catholic Church in Central Florida.
Parishioners…please note any donations made TODAY ONLY to the Catholic Foundation, via the link above can be specifically designated for Immaculate Conception Church.
"I give thanks to my God at every remembrance of you."  Philippians 1:3
May 4
While there is great enthusiasm for the gradual re-opening of our parish community and returning to our campus, there is much preparation needing to take place, as you might imagine.  This is what the parish staff and I will be working on in the coming week or so.  I am happy that Bishop Noonan has given us time to think through and adapt for our own locations all the specific protocols and adjustments that we will need to put into place as we resume gathering as a Eucharistic community.  As we have been hearing in the media about the elements of "phased" re-openings, the Church in Central Florida will not look exactly like it did prior to our closure.  I will be sharing with you during the next 2 weeks more about what "church" will look like once we start coming back together.  Just know that all "social" protocols we are experiencing in life outside the church will also be in force within the church–to the best we can accomplish these things, i.e., social distancing, limiting numbers in attendance, changing some liturgical practices to accommodate safety in the time of a global viral pandemic (that continues to inflict and kill our brothers and sisters), enhanced sanitizing and cleaning procedures, limited hours of availability, etc.  We will do the best we can as a community, so please be patience, and more importantly, cooperative as some of the things we need to do may be uncomfortable, "not what we're used to," and challenging to implement.
Here's another "taste of Manfred music" to enjoy while we await our return to liturgical life in our parish church.
ANNOUNCING THE PLAN TO RE-OPEN IMMACULATE CONCEPTION CATHOLIC CHURCH!!!
May 2
ALLELUIA!  GETTING READY TO RE-OPEN THE CHURCH!!
With a heart (finally) full of Easter Joy, I am happy to announce that the People of God at Immaculate Conception Catholic Church will soon be reunited around the Word and Table of the Lord!  Bishop John Noonan has released an incremental plan, with numerous safety protocols, to re-open the churches of the Diocese of Orlando throughout the month of May.  I will provide more specifics in the weeks to come, but here is the basic outline!
MAY 11
Our church will be open Monday-Friday 9:00 am-1:00 pm for personal prayer only; there will be no Mass or other services conducted.
MAY 18-29
Weekday (Monday-Friday/NO SATURDAY MORNING PUBLIC MASS) only Masses will be held at their regularly scheduled times; the church will remain open for prayer those days until 1:00 pm.
MAY 30-31 Pentecost Sunday
Our first return to Sunday Mass, celebrating the glorious Feast of Pentecost will begin with the 4:30 pm Saturday Vigil Mass & our regularly scheduled Sunday morning Masses.
JUNE 1
We return to our regular weekday/weekend schedule of Masses.  However, we will continue for the foreseeable future to close the church for cleaning by 1:00 pm weekdays.  We may be able to return to public 9:00 am Saturday morning Mass on June 6.
Detailed information to help you prepare for and understand the necessary changes being implemented at all public Masses once we return can be found here on our website under COVID-19 & Our Parish Community (all information here has been updated and current with this announcement) and by following links to the Diocese of Orlando website.
May 1-Month of Mary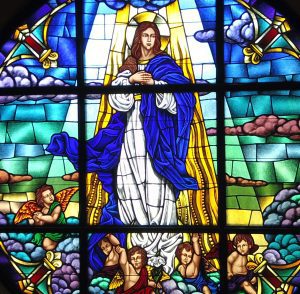 CONSECRATION OF USA TO MARY-Today!
On Friday 5/1, Archbishop Gomez will lead the country in a prayer at 3 pm EDT which consecrates the United States to Mary, Mother of the Church. "This will give the Church the occasion to pray for Our Lady's continued protection of the vulnerable, healing of the unwell, and wisdom for those who work to cure this terrible virus," said Archbishop Gomez.
Each year, the Church seeks the special intercession of the Mother of God during the month of May. "This year, we seek the assistance of Our Lady all the more earnestly as we face together the effects of the global pandemic," Gomez continued.
As a parish dedicated to Mary, Mother of God, under her title of the Immaculate Conception, surely we are ramping up our prayer and re-dedicating ourselves and this parish community to her intercession!
April 29
Only a quick word today that I have just posted the 4th Installment of the Gospel Resurrection Narrative podcasts (John Part I, chapter 20).  This recent addition, along with the three Synoptic Resurrection account explorations can be located here on our website.  Simply go to the Faith Formation menu at the top of the homepage, then click on Adult Formation–and voila, you're in!  As we continue to plumb the depth and beauty of the Gospel of John in the remaining weeks of Easter, perhaps these final two podcasts (John 21 is now in the works), which explore John's Resurrection encounters, can help illuminate the texts we have been sharing and will continue to share through the end of the Easter cycle.
Oh yeah…couldn't resist another one of these…
April 28
Although I have chosen a kind of mini-blog to keep us in touch during our diaspora, I've never been a regular fan of blogging or any particular blogger—that is, until I came across a writer by the name of Austin Kleon, who offers a once-weekly "10 Things I thought Were Worth Sharing This Week" newsletter.  It's quick; he reads a ton of books each week (so I don't have to), and then shares insights and suggestions; and his quirkiness helps me be a little more creative in my own thinking and writing.  Anyway…as we are now mostly connected by cyber-tech (example right here as you are looking at this piece), I found this reflection intriguing.  It contrasts "wondering" about something and "knowing" something.  Maybe you will also…
Mary Ruefle, in a wonderful conversation with David Naimon:
"I would rather wonder than know. It makes it more and more difficult to be alive on earth in these times, when your inclination is to wonder rather than to know.
"I suppose the example that comes to mind is: it used to be if you were having dinner with people and someone said, "Who's the fastest animal on earth?" An amazing conversation would ensue. And now someone pops their phone out and looks up the answer. And it breaks my heart….
"I really, really don't like it when people look things up on their iPhone…. I mean, sometimes, of course, I'm no idiot. The encyclopedic nature of the information that's available is fantastic, but I would still rather wonder than know.
"I think wondering is a way of inhabiting and lingering. There seems to be more dwelling. To dwell, inhabit, and linger. I'm interested in those things. And you can do that when you don't know.
"We tend to, as human beings, our impulse is, once we know, once we have the answer, we move on. So we're constantly moving from one thing to the other. I would rather inhabit the question, or dwell. For me, that is the place I want to live in.
"My oldest son used to ask me questions and when I said I didn't know the answer, he'd say, "Look it up on the Goggle!" It takes discipline, now, not to look things up immediately, but to sit and wonder…."
And on the lighter side…a little chuckle to close with…
April 25
Just about an hour before I began writing this installment, the carillon speakers mounted atop our steeple were ringing out, right on their 4:20 pm cue, summoning people to journey to our church for worship.  But as I stood alone at the altar, listening to these chimes, once again, more than 40 days into our confinement of social-distancing and lock-down—no one came.  As it often does in these days, especially when I am celebrating Eucharist for all of you in absentia, my heart sinks a bit—and then I remember that, as Paul tells us, "Nothing can separate us from the love of God, in Christ Jesus our Lord."  And yet, in all honesty, it is hard to cling to this statement of scriptural faith when I/we feel the pangs of separation.
When it came time for the Prayers of Intercession, I gave voice to the intention of the Mass, the soul of dear parishioner Joe Panus.  As I read his name, I immediately thought of his wife Joan, who lives literally just on the other side of the wall between our church property and the Tramore neighborhood—and how on the occasion of this Mass remembrance for her husband, she is so close, yet so far from the altar.  But again, in the Communion of Saints, Joan, Joe and each of us are united as one body in Christ, no matter how close or far away we may be physically.
In the First Reading for this Third Sunday of Easter, drawn from Luke's Acts of the Apostles, we hear Peter preaching and insisting that despite Jesus' death on the cross, "God raised him up, releasing him from the throes of death, because it was impossible for him to be held by it."  As these days of separation continue for us, let us be reminded that nothing can hold back the Lord's desire to walk with us, stay with us, and nourish us—no barriers keep him from us—even physical distancing.
April 22
O Mary, you shine continuously on our journey as a sign of salvation and hope.
We entrust ourselves to you, Health of the Sick.
At the foot of the Cross you participated in Jesus' pain,
with steadfast faith.
You, Salvation of the Roman People, know what we need.
We are certain that you will provide, so that,
as you did at Cana of Galilee,
joy and feasting might return after this moment of trial.
Help us, Mother of Divine Love,
to conform ourselves to the Father's will
and to do what Jesus tells us:
He who took our sufferings upon Himself, and bore our sorrows to bring us,
through the Cross, to the joy of the Resurrection. Amen.
We seek refuge under your protection, O Holy Mother of God.
Do not despise our pleas – we who are put to the test – and deliver us from every danger, O glorious and blessed Virgin.
– Pope Francis, March 2020
April 20
The first reading from today's liturgy from the Acts of the Apostles regales us with the accomplishments of the apostles preaching the Risen Christ, and how this proclamation was changing people's lives.  But one phrase particularly caught my attention during Mass this morning: "as you stretch forth your hand to heal."  Indeed, may the Risen Christ continue to stretch forth and heal our world, our Church, and each of us during these days of suffering, disillusionment, and doubt.  And be reminded that the Risen Lord, whom Peter and John invoked in today's Word, is the same Risen Lord who is now attentive to our pleas, as well as our commitment to share the power of his presence in whatever ways we can.
In case you didn't get a chance to see it in the latest edition (digital copy) of the Florida Catholic, I am posting the link here.  On page 6 of the Orlando Diocese edition, you will find an article I was asked to write to reflect upon the possible meaning of the "Communion of Saints" during this season of pandemic, and how this truth of our Catholic faith might be a support and encouragement for us.  I hope you find it soothing and comforting.
digital.thefloridacatholic.org
April 17 Easter Friday
If you are like me, amid all the other feelings and emotions we are facing as the viral-restraints continue, there is a growing sense of "weariness."  While there are still many things we are attending to in our lives, even under the present restrictions, it is amazing how sometimes doing "a whole lot of nothing" can become tiresome.  I share with you today a quote from my friend and spiritual author, Rev. Jan Richardson.  Also attached, following her piece, is a link to a beautiful Easter hymn sung by our frequent visiting young cantor, Jennifer Weakley.  I trust you will feel the same way I did when she sent me this recording–gosh, it is so good to once again hear her beautiful voice.
Finally…the first in the Resurrection Gospel Narratives podcast series is now available on this website. Go to the "Faith Formation" drop down menu at the top/click "Adult Formation," and there you will find the first recording.  Next in the series is the Gospel of Matthew, which will be available in a few days.
—Jan Richardson, from Holy Saturday: Breathe
The Painted Prayerbook, March 2018
If we have grown weary in this season. If we have become overwhelmed. If we are living with fear or anxiety or worry about what lies ahead. If the swirl…has become intense. If time is moving strangely. If grief has been a traveling companion. If the ground beneath us has given way. If resurrection seems less than certain…this is the day that calls us to breathe. This is the day that invites us to make a space within the weariness, the fear, the ache. This is the day that beckons us to turn toward one another, and to remember we do not breathe alone.
Jennifer Weakley, Christ is Risen, He is Risen Indeed
April 15 Easter Wednesday
I share with you today a portion of a message sent via email from a favorite theologian and spiritual writer of mine, Fr. Ronald Rolheiser, OMI, (we've discussed a couple of his books during our parish adult formation and Book Café), who is currently under lock-down as President of the Oblate School of Theology in San Antonio, Texas.
"What kind of resurrection do we need during this time of lock-down?  Soren Kierkegaard once said his favorite text in the Gospels was the one where, after Jesus' death, the disciples locked themselves into a room out of fear and the resurrected Jesus had to come through the locked doors of their resistance to breathe peace into them. Kierkegaard prayed for that to happen to him, that Jesus would come through the locked doors of his resistance and breathe peace into him.  This year, we need the resurrected Jesus breathe peace into a whole world that is locked-down and needs a million kinds of peace.
"This can be a good year too to remember that at the root of the Easter message lies this:  There is nothing to fear, nothing – not lock-down, not defeat, not threat, not loss, not sickness, not even death. The resurrection of Jesus assures us that in the end all shall be well, and all shall be well, and every manner of being shall be well; and if it isn't well … then it is still not the end!"
NEWS FLASH…if you are looking for additional "podcasts" to pass the time, I have decided to record teachings on the Resurrection Narratives of the Gospels, as provided again by the scholarship of Fr. Raymond E, Brown, SS.  The "Gospel Passion Narratives," from our Lenten series, currently appear on our website under Faith Formation/Adult Formation, so now, in our extended Easter Season, I will do the same with the Gospel Resurrection accounts.  Look for them to be posted over the next two weeks under the same section of our website.  An Introduction and the Gospel of Mark should be posted by Thursday.  Hope you enjoy!
April 14 Easter Tuesday
Here we are two days after Easter Sunday, hopefully recovering from chocolate or marshmallow peep overload, and asking the Risen Lord to guide us from the "tomb" of our confinements and lead us back to fullness of life, especially the life Jesus offers to us in the Eucharist.  I wanted to post the following song, beautifully sung and offered by our own Mel Scott, on Easter Sunday morning (when could have imagined him crooning during the Sunrise Mass), but I wasn't able to make it happen.  So, since Easter is really a 7-week celebration, I 'm not too hard on myself for saving it for today.  We surely miss all of our wonderful music ministry during these weeks of separation from church and liturgy, so it is soothing and encouraging to hear Mel.  Let us indeed pray that "morning will break" very soon for all of us, and we can come together to do Easter the way we desire!  Thanks Mel for sharing your gifts with us "in diaspora"!
April 12 Easter Sunday of the Resurrection of the Lord
Having just returned from our church, and celebrating Easter Sunday Mass for all of you…it is still very disorienting to be in an empty church and celebrating Easter.  But through the power of the Risen Christ, who himself was able to break through all manner of barriers in order to be with his disciples after the Father raised him from the dead, we too are united, in spite of our mandatory social distancing, wherever and however we find ourselves this bright and glorious Easter morning.  I want to share with you an Easter message that I received earlier in the week from one of my fellow Missionaries of the Precious Blood.  Fr. Ilia is the director of our mission in the country of Croatia.  I found it to be uplifting and encouraging and hopeful, so I hope that you will find it a source of renewal for your lives today and in this bounteous Easter Season ahead.  Happy Easter! 
April 9 Holy Thursday/1st Day of Passover
This evening, as Catholics (virtually) celebrate the Mass of the Lord's Supper [remember, we are invited to participate in the live-streaming of Bishop Noonan presiding the Lord's Supper tonight at 7 pm from St. James Cathedral, Orlando], we also encounter the rare coinciding with the first evening of Jewish Passover.  Since Jesus celebrated his farewell meal on the night of Passover, I invite us to draw from some of the implications of this great event, as described by one of my favorite theologians, the late Monika Hellwig:
The breaking of the unleavened bread of Passover has three meanings: it is the bread of the poorest, the desert nomads, the marginalized; it is also the bread of affliction and terror from the panic and haste of the flight; and finally, it is on these accounts the bread of the radically new, uncontaminated by the sourdough leaven of the past. It is out of utter poverty and abandonment, out of final tragedy and disaster, that the call of God's promise can be heard. The God of Israel hears the poor and liberates the captives. God creates a new people, God's own people, from the marginalized and excluded, and leads them through a desert training in which they are to learn to share God's hospitality in gratitude, not to hoard and not to enrich themselves at the expense of the less fortunate [Monika Hellwig]
April 8 Wednesday of Holy Week
Following Mass this morning in our church, I looked at the sanctuary candle by the tabernacle in a somewhat new, or perhaps better to say, deeper way.  Indeed, the Blessed Sacrament remains in our church tabernacle, and the light still glows because of that presence, which is why we use a sanctuary lamp in the first place.  But today, as I sat in prayer for all of you before the tabernacle, and gazed at the flickering light, I was immediately drawn to the passage of sacred scripture where the Evangelist John tells us: "The light shines in the darkness, and the darkness did not overcome it [John 1:5]."  Yes, there is much darkness surrounding this Holy Week, here on the edge of the Sacred Triduum, but today that little flame reminded me that with Christ, every darkness can be conquered—even if only with just enough light to see our way to the next steps we must take.
Just added to our website… A series of short podcasts/reflections from Dominican scripture scholar Sr. Laurie Brink, OP , on Christ's Seven Last Words, as found in the four Gospels.  Go to the "Faith Formation" drop down menu at the top of our website, click "Adult Formation," and download the talks.
Monday, April 6 Palm Sunday of the Lord's Passion…the day after…
Sharing a scene from a happier, more festive Palm Sunday, when we were able to celebrate the start of Holy Week without confinement.  As we have begun these most sacred days and this holy walk of faith, I hearken back to the Collect (Opening Prayer) from yesterday's Mass.  I even repeated to myself these words upon praying them the first time…and the second time I prayed them with even more consciousness and commitment: "…graciously grant that we may heed his lesson of patient suffering…."  Below is a photo of some of the palms I blessed at the Saturday Vigil Mass; they are TBRL, that is, "To Be Retrieved Later".  Blessed Holy Week of the Lord's Passion!
Friday, April 3
It took a little longer than we expected, but then again, copying, signing, stuffing, labeling and mailing over 900 letters take a while!  That's right, the pastoral letter I promised earlier this week should be arriving any day now, if not already in your hands.  And yes…I DID actually hand-sign "Fr. Ben" to all 900+ of them!  I figured this was the least I could do to send, aside from the sentiments in my letter, something of a personal touch to you (wore gloves but no mask).  While "letters" and "cursive signature" are things mostly unknown to Gen-Xers, Millennials, and Gen-Yers—I suspect that many of our parishioners still enjoy getting real mail that you can hold in your hand—that's not a bill or solicitation!  Unfortunately, the envelope didn't contain and economic stimulus, but I hope it lifted your spirits nonetheless.
Wednesday, April 1
As everyone is challenged to find ways to remain calm and safe during our forced hibernation, I am turning to an old favorite…ironing [and that's no April Fool]!  "Socially distanced" from the assistance of our wonderful "altar linen ladies," I have taken up duties to launder our altar linens.  Thankfully, there are not as many these days.  Lots of people despise ironing, but I have always loved it—for three reasons: 1. it is precision personified; 2. you directly see the result of your efforts (unlike so many things in life); 3. it brings some order in this chaotic world.  Don't worry ladies, you can have your jobs back once the plague is ended; but for now I'm happy to be IRONING ON!  
Sunday, March 30
Dear Parishioners: I returned from my mother Bernadine's funeral and time with my family on Tuesday of this past week.  It has been quite a roller coaster of emotions and challenges, but I have been sustained by the kind and generous expressions of sympathy, prayer, Masses and other well-wishes by so many of you, as well as from friends and members of my Precious Blood family.  Thank you, from the bottom of my heart!
I celebrated the 5th Sunday of Lent in our church this morning; so please continue to find my Sunday homilies posted here on our website.  It is an eerie feeling being in an empty church, with the air conditioning turned off, and hearing nothing but the sound of my own voice.  I pray that this time of separation ends sooner rather than later!
As you will find in more detail under the Diocesan section of this homepage, all liturgies continued to be suspended through Easter Sunday, and could extend beyond.  You can find specific information regarding Palm Sunday through Easter Sunday by clicking the diocesan link.  All the liturgies of Holy Week will be celebrated here in our church, but continue to be closed to the public.  Palms will be blessed and will be distributed at a future date yet to be determined.  Some elements of these most sacred liturgies will be scaled back given the circumstances, but know that you can join me in "spiritual communion" during the times I will be offering the Masses and services of Palm Sunday of the Lord's Passion, Holy Week, the Sacred Triduum and Easter.  Times will be posted later.
All registered parishioners (that means we have your address) will be receiving a letter in the US mail sometime later this week.  For your continuing spiritual enrichment, my radio Pilgrimage resumes this week on WDMC AM 920, and we will complete the journey in the next two weeks.  Also, I am recording the segments I would have presented at Soup 'N Bible Study on the Gospel Passion narratives and posting them on this website.  You can find these under the "Faith Formation" drop-down menu/Adult Formation". 
Check back every few days for more to come.  Be well, be healthy and may God protect us all!